TuDee is a tile-based map editor I made a few years ago and it is now available for free. Download it here:
TuDee_Setup_v104.zip
Operating system required: Windows


Features include:
Tile sets
Maps
Layers
Entities (e.g. sprites, power-ups, triggers)
Paths (linear and Bezier curves)
Mosaics (groups of tiles)
Custom variables (for tile sets, maps, layers, entities and paths)
DLL-based exporter (you can write your own exporter, see the example exporter project included with the install)
Flexible binary exporter (select data to export)
Binary Map importer
Project files are binary or XML
A software and an OpenGL version


Games that used TuDee:
The Adventures of Gi (ICE Green Games, 2012)
The Harvest (Luma Arcade, 2010)
UJ Graduation (Luma Arcade, 2009)
Mechanics Touch (Orange Pixel, 2009)
Astros Incredible Space Race (Luma Arcade, 2009)
The Ultimate Grand Prix Drive (Luma Arcade, 2008)
Nokia Navigate Around Town (Luma Arcade, 2008)
TimeCops (Orange Pixel, 2008)
MINI#37 (Luma Arcade, 2007)


TDX file format (TuDee XML)
TuDee has a flexible XML exporter that allows you to select which data to export.
Find out more here: http://www.diorgo.com/v1/?p=379


Screen shots of TuDee:
TuDee.

Numbers or collision can be given to each grid block.


The following screen shots use images created by Daniel Cook (http://www.lostgarden.com/).

A cute world.

The grid.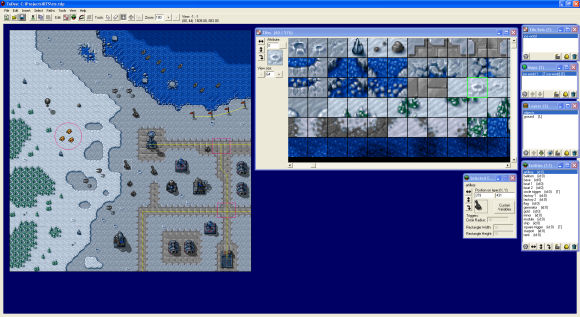 Some paths and triggers.